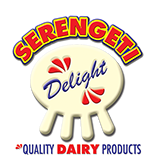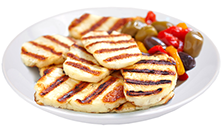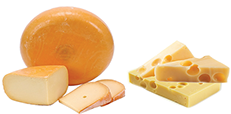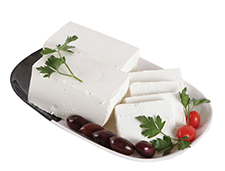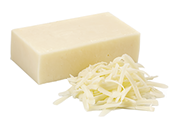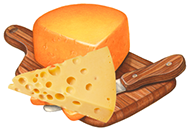 Perfected through meticulous trails and tribulations, our cheddar has a minimum maturity of two months. This delightful product has reached a standard that satisfies even the most jaded cheese-tasters. See the recipes for some inventive ways to enjoy this great cheese
Our fastest selling 'pizza' cheese is also a fat reduced product. Widely used throughout restaurants and households in Tanzania, fans will tell you that you've never tasted pizza until it's been made with 'Serengeti Delight' mozzarella cheese. See below for some mouth-watering recipes.
One of the most popular cheeses worldwide, our beautifully packaged Gouda is aged to perfection ensuring premium taste and quality. This cheese is ideal for use in sandwiches, either cold or melted.
Calloumi cheese, sometimes just called "grilling cheese", is making it's way up the list of popular food trends - and with good reason!
Originally from Cyprus this cheese is proudly made in Tanzania whilst maintaining its authenticity to its original formula and taste. The only cheese that you can BBQ!
Our Feta Cheese soaked in brine solution and conveniently ready cut into cubes make it an excellent accompaniment for any salad.
A south Asian specialty, this fresh cheese is typically used in traditional Indian and Pakistani cuisines. Our conveniently packaged Paneer is ideal for cooking and barbequing dishes such as Paneer tikka masala, Mattar Paneer etc.
Dates its origins from rural Italy the land of mozzarella. Made from cheese whey, this amazingly light cheese is a true delight on the palette. Versatile in all food preparations from spreading on bread to making mouth watering garlic/chilli ricotta dips.
Delight in this fat reduced product for the health conscious, and discover the new alternative to butter. Packed in 500g, for those who like to spread their toast or bagels with our delicious flavor.
Dar-es-salaam, Morogoro and Zanzibar: Please contact our factory depot in
Dar-es-salaam - c/o Mr Steven Abel +255 759 070 826 or +255 784 691 812, Email: darsales@idptl.co.tz
Arusha and all other regions: Please contact:
Mrs Rayah Husein or Mr Mark D'souza on Tel: 0754 420293, Email: dairy@idptl.co.tz
Tanga distributor: "Get all Serengeti Delight Products in Tanga" Jollyland Distributors tel: 0786 006 922
© 2016 International Dairy Products